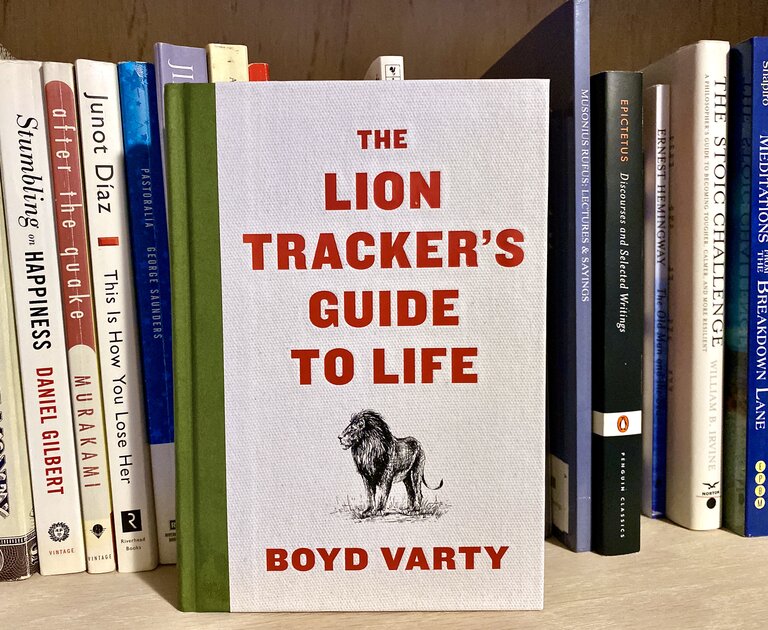 The Lion Tracker's Guide to Life sat in my Amazon wishlist queue (fodder for another post) for a few years. I had heard the author, Boyd Varty on a lesser known podcast, put it on the wishlist but never purchased. Like many items in my wishlist, I forgot why it appealed to me. More recently, Boyd was on the Tim Ferriss show and I bought the book.
The first remarkable thing about the book is the size. It's small, maybe only 3/4 the size of a regular book (5X7", compared to the standard hardcover at 6X9"). And short at only 130 pages with generous spacing. I read it over three days, but one can read it cover to cover in a good afternoon. Interspersed are hand-drawn renderings of jungle animals and tracks, along with hand-written captions. Lion Tracker feels like a labor of love, something put together out of desire and need rather than commercial success. Unlike many books from well-known authors who drag one idea or concept out for 300 pages when a 2000 word web post would suffice.
Varty uses a classic device for the book. He describes, in loving detail, aspects of a track with two expert trackers. As different things happen along the trail, Varty reflects on how those lessons translate to his life. As an author, I enjoyed his seamless transition between telling the exciting and engaging story of the track with his larger life lessons. The track and his emotional journey crescendoed at the same point. One of my other favorite books, Born to Run, follows a similar path (a running race with the Tarahumara of Mexico – McDougall uses it to tell the story of natural running, the shoe industry, etc.). But Varty never wanders too far from the tracking story and keeps the reader engaged.
The two expert trackers in the story, Renias and Alex, are larger than life. Much like how a fiction author needs to create a backstory and pick scenes and dialogue to create a character, Varty gives his these two men a similar treatment. Renias is the wise leader with generations of tracker blood and knowledge. We learn his backstory but see his qualities as he actively tracks. It creates a vivid image of the two men. Varty's respect and admiration for the two and of their profession is clear.
The Lion Tracker's Guide to Life reminded me of another book, Death in the Tall Grass, also about tracking animals in the African jungle… yet wildly different. Death in the Tall Grass was about a big-game hunter as he tracks and kills different now-protected game, like lions and tigers and leopards. Tall Grass reflected a different age with different morals, and the authors are certainly very different. But they both lovingly and reverentially describe a world of the jungle and its inhabitants.
The Lion Tracker's Guide to Life is a quick and engaging read. I thought about it long after I put it down. Varty tells a compact story with just enough background and exposition to hook the reader. I'd read only the active tracker story by itself. One of my favorite books of the last few years.