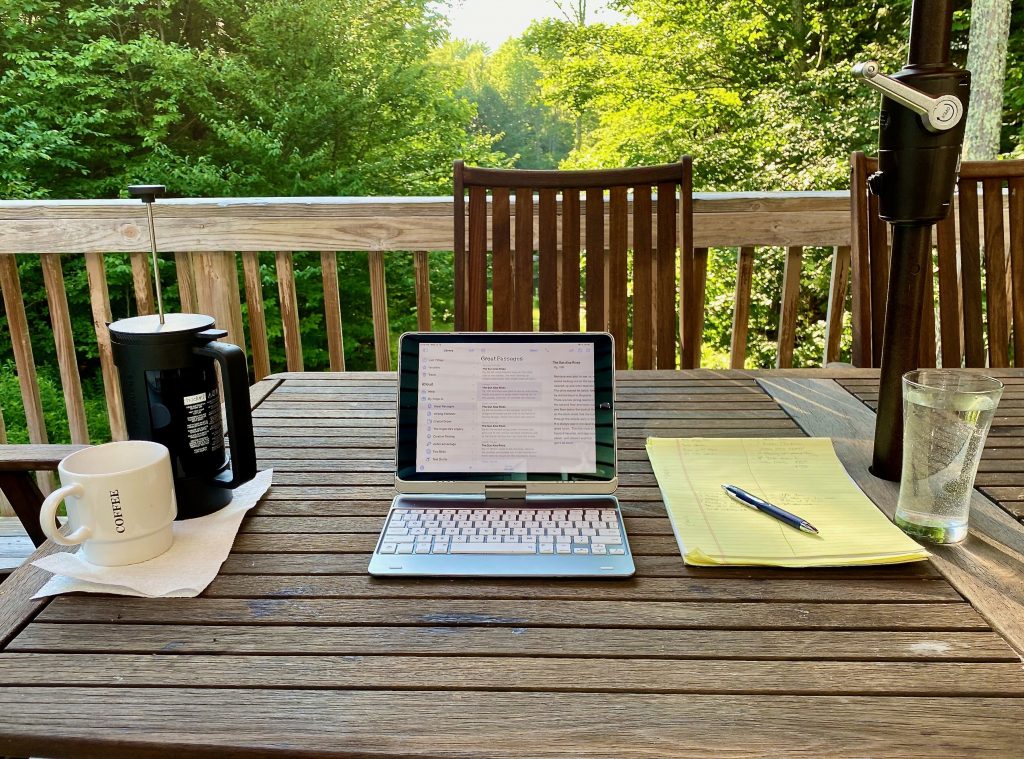 This post is a follow-up to my thoughts and struggles with the writing process, found here.
 
I'm working on a longer piece, titled "Crystal Grove," — a story about a family in Middletown, NJ that finds and struggles against a force in their new neighborhood.  This will be my longest piece so far; it will either be a novella or short novel in the 50,000 word range.  I'd like to self-publish Crystal Grove, following the well-worn path of offering the first book/act gratis, and charging a low $1.99 for each of the following books.
The inspiration for this work were crystals my wife hung in our backyard in April.  She is studying Reiki; crystals are part of the practice.  Hanging them outside allows them to capture energy from the sun.  My writing room faces the small patch of trees they hung from, so I'd watch them shimmer and glow in the sun each morning.  They seemed especially vibrant in the spring sun, before any leaves sprouted.  I enjoyed watching them capture and reflect the light, and played with an idea about how they would react to the opposite of sunlight, some negative energy.  And I went from there.

While working on my previous short stories, I found I needed to outline.  I previously used a scaled-down version of an online template for Unfair Advantage and went back to it to outline this story.  It was more challenging than expected; basically, I had a vague idea what would happen in each act, but not a firm sense of how the story ends.  I outlined the first book and followed it with my daily morning writing, but the writing lacked cohesion and urgency because I didn't know where we were ultimately going.  Luckily, I remembered reading (or hearing on a podcast) that one "trick" is to write the ending scene (or, in this case, set of scenes) first.  I did that last week, while on our family Covid 19-summer-vacation to a cabin in the Catskills; now I know how the story ends.  New rule: I have to know how these stories end before I write them.  Else, they just wander.

Another discovery was I don't find it helpful to add a lot of detail to the outline.  My outline for the first book was ten rows deep and nine columns wide… which seems nice, but I never referred or edited the outline.  For Act 2, I put basic scene information on stickies and arranged them in order.  I already knew how the act ends, so this was straightforward.  When I write these scenes, I lay out the beats to start.