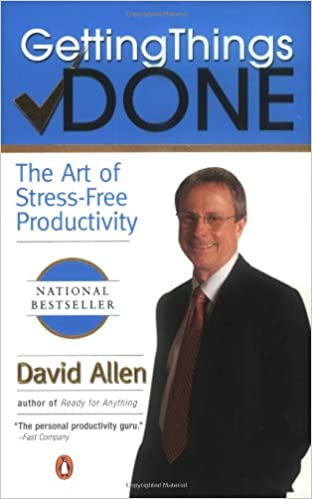 Another life-changing non-fiction book is Getting Things Done (original edition), the perennial bestseller. I wonder how many of the millions of purchasers actually read it, or, like me, implemented the prescribed strategies and solutions.
It only took a few pages to know this book was gold. The author, David Allen, tells a story about how he would sometimes write lists (before his GTD system) and, if even if he completed a task earlier, he'd write the task just for the satisfaction of crossing it off the list. I do the same… I lean toward this kind thinking and behavior, which I'm sure is the reason the book's concepts land with me. There are plenty of descriptions of his system elsewhere, so I won't repeat it here. On a daily and weekly basis, I follow the most basic habits. Inbox zero. It's a pain in the ass, but I don't miss mails or have thousands of unopened items in my Gmail inbox. I was on a presentation with a vendor and his email tab read over 9k unread mails. My God. Anyway, that's a daily habit.
Weekly, I have a "meeting" with myself where I review the previous and preview the next week's calendar and tasks and merge my projects into a "Projects" list. I then consult this list daily and turn project items into daily tasks. I also keep a "Someday/Maybe" list (as a parking lot) for projects that aren't on the main list. This isn't exactly what GTD calls for, but it works for me. I have done none of the monthly or quarterly check-ins in years, but I used to… and should do them again. The other daily habit I took from GTD is managing my day-to-day with a task list, and I dutifully check off items as I complete them. I've followed this protocol for so long its second nature and literally a part of my life.